SEAMEO SEAMOLEC
Southeast Asian Ministers of Education Organization
E - MODULE DEVELOPMENT ONLINE KKPI SUBJECT SPREAD-SHEET AT VOCATIONAL HIGH SCHOOL
29 Apr 2019 - 05:35 pm (2 year ago)
Content Language : English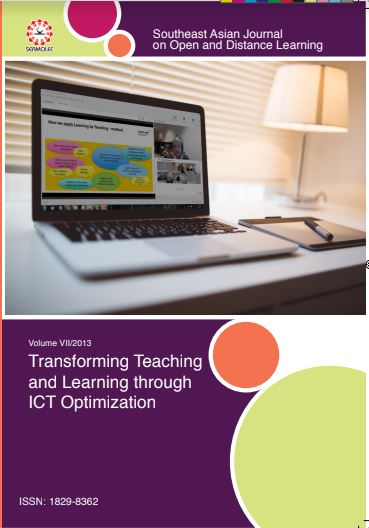 Vol 7 No 1 (2013): Transforming Teaching and Learning through ICT Optimization
Anggraini Yussi Puspitasati
State University of Malang
Abstract
Abstract: The online learning model is an effective approach in the open and distance education (ODE). This approach allows the formation of a virtual classroom, where teachers still can submit material directly and collaboratively despite being in separate locations. Unfortunately, the limitations of learning resources such as books or modules of Keterampilan Komputer dan Pengelolaan Informasi (KKPI; Computer Skills and Information Management) vocational subjects is still scarce and limited. This resulted in less materials that are easy to understand, particularly with regards to illustrations, sketches, and modeling. Therefore, it is necessary to provide instructional media solutions that are flexible and can be used together.
This study aims to develop teaching materials with KKPI subjects using the spreadsheet software level to help improve the quality of vocational distance learning.
Development models used in this study was adapted from Sugiyono development steps, using a questionnaire on individual trials (media expert & subject matter experts) as data collection instruments and the respondents/students for the test user. While the data analysis is used to process data from media experts, subject matter experts and respondents/percentage of students using the technique.
Technology-based application development, Information and Communication Technology (ICT) is very appropriate in order to improve the quality of learning. This is in line with the mandate of the utilization of ICT strategic plan as outlined in the Ministry of Education and Culture in 2012. ICT solutions by utilizing the internet to bring collaborative learning network that is widely accessible, anytime, and anywhere. Result of the development of teaching materials in the form of an e-module KKPI subjects will play a role in improving the quality of vocational ODE to provide an equal educational service and creating a golden generation of Indonesia.